About Us

---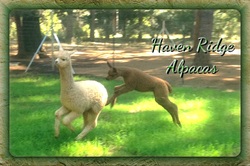 We are nestled in the Sierra Nevada foothills in a town called Georgetown, rich with Gold Rush history. Here, three generations of our family enjoy twelve acres of forest. Complete with ducks, geese, and chickens scattered about, our goal here is to work toward a more self-sustaining lifestyle. The warm months are filled with the busyness that comes with planting and harvesting our garden followed by canning and freezing summer fruits and vegetables.

When we're not busy getting our hands dirty there are any number of other projects going on; from spinning, dying and knitting our alpaca fiber to quilting and wood working. Occasionally there is even an odd restoration project or two. In the midst of all of it we home-school our children.

---
---

What's New!
We are teaming up with Stardome Alpacas of Cool to start our own brand of socks.
Alpaca Your Socks tm
These socks will be produced right here on the farm and made from the fiber of our own animals and we will blend it with another natural fiber. This will create a sock that is warm, sturdy and still be machine washable*.
Check out our Kickstarter project starting soon and we will announce our new brand.

*Socks will still have 10% nylon/spandex to give stretch

---
Frequently Asked Questions:

Yarn quality
Why are there bits of grass in my yarn?

Alpacas love to roll in dirt and grass and the little bits get caught in their coats. Most of this is skirted and picked out but without using a harsh chemical to disolve all the vegetable matter (VM) it is impossible to get all of it out. I don't do that and I don't use mills that do. Aside from the obvious environmental impact of those practices it also is damaging to the structure of the fiber. You want to create heirloom quality items with your fiber and it just won't last as long if it has been harshly treated. The little bits WILL eventually rinse and wear out. Rather than seeing the VM as a flaw, consider that yarn without it is not the same quality.



The label says "mill spun." Is this still yarn from your animals?

Yes. Currently I have 20+ alpacas and processing all of their fleece by hand by myself is an overwhelming task. I do have a mill clean the fiber for me and sometimes spin some of it as well. It is still fiber from my animals, lovingly raised right here.



Natural Dye
What are natural dyes?

I use natural (or botanical) dyes from Earthues. All of their colorants are derived from plants or other natural, sustainable, materials. They are safe for home use, safe for my septic, safe for my kids to be around.

Also, I love the colors. The color palette is beautiful and endless. I like that while some results are predictable sometimes there is a color switch that amazes me and I get something unexpected and just as lovely.



washing instructions
How do I care for my yarn or knitted garment?

Hand wash, cold. Lay flat to dry.

Use a mild detergent if you use soap at all.

DO NOT wash hot and then rinse in cold. You will felt or shrink your fiber.

If you do use hot water let the water come back to room temp before attempting to do any other rinse or wash.

Squeeze don't twist to get excess water out.



What should I wash it with?

Charlie's soap is a safe, neutral laundry soap that I use to wash my fiber with. I sometimes will use a homemade soap made from Castile, Borax, and washing soda.

Any mild detergent will do.
---
Links